by Christian Van Caillie
<cvc(at)writeme.com>

About the author:
Christian is unix administrator in a private banking institution.
Content:
A short Ximian Evolution installation guide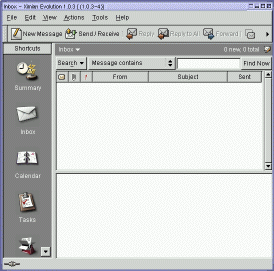 Abstract:
This article is a little installation guide for the Ximian Evolution. This software is able to read and send mail from a Linux workstation via MS Exchange server 5 (NOT for 5.5). In this article, I'll give you some info about my personal experience and my own configuration.

_________________ _________________ _________________
Step by step
First step : Install Red Carpet. This software will check for the latest version for the selected software.
In our case : Evolution.

www.ximian.com/products/evolution/download.html
follow the procedure :
-Install Red Carpet
- Select only Red Carpet + your distribution (in my case : Mandrake)
- download Red Carpet package
- rpm -Uvh red_carpet-1....rpm


Launch Red Carpet
- If you must modify the firewall configuration, do it, else click on OK
- on the left of the window, click on <unsubscribed channels>. On the right pane, click on <Ximian Evolution> and click on the subscribe button.
- select necessary packages and click on <update packages>
- click on <next>

If you have some trouble with the download, cancel the current one and restart from the <selection package> window.

Once installed, it is possible to unsubscribe Red Carpet for Ximian Evolution. In other words Red Carpet will then not check for updates.
Evolution Configuration
- add the hostname and the IP adress of your Exchange server
- start Ximian Evolution
- In the identity window, fill up your personal info and click on <next>
example: Full Name : Monsieur Toto
E-Mail adress : Toto@truc.com

- Receiving mail window :
Sever type : IMAP
Host : <hostname of your Exchange Server>
click on <server requires authentication>
in <autentication type> select <login>
in <username> enter your windows domain username!!! and click on <next>

- time zone window : select your country, click on <next> and on <finish>


The software is installed and, normally, must be working fine.
Please note that :

For my part, I can't read my contacts and my appointments created with Outlook
If you use delete to delete contacts or mail, they will be deleted on the server. There is no way to restore them.
This configuration works for me. If you've some kinds of problems, go directly to www.ximian.com. They have a FAQ sheet that can help.

Enjoy
Talkback form for this article
Every article has its own talkback page. On this page you can submit a comment or look at comments from other readers:
---
2003-04-18, generated by lfparser version 2.37