ANNE MYLES ... A FOND TRIBUTE
News & Views, October 2005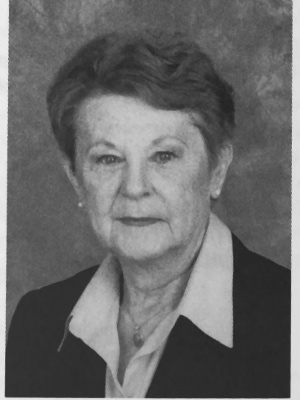 After 28 years of public service, Anne Myles made it official last week that she will retire and will not seek re-election on November 6th as Baie d'Urfé mayor.
One of Anne Myle's fondest memories of her tenure as Mayor of Baie d'Urfé is the night the Montreal Symphony Orchestra held a concert in Fritz Park in celebration of the town's tricentennial in 1986. "We had 10,000 people come into town," she recalls. "People said that it was going to be chaos, but we had the volunteer fire department and all kinds of people helping out. It was a prefect evening. Baie d'Urfé is a special place."
Mayor Myles will take that, and many other memories and accomplishments, with her, as she retires after 28 years in town government - 22 as mayor. During that time, Baie d'Urfé grew, prospered and ultimately defied the dictates of the provincial government, to reassert itself as a unique community ... far more than just another suburb of Montreal.
This really is a small town, with its own identity," Myles says. "I think Quebec City underestimated that. That's why we fought so hard against the merger. We have a real sense of community here, and they were taking it away from us."
Indeed, more than anything, Anne Myles' time in office was defined by the anti-merger fight. She, along with Westmount mayor, Peter Trent, became the focal point of an unprecedented grassroots rebellion against what many perceived as provincial government tyranny. "The issues," Myles says, "were clear enough: without asking Baie d'Urfé, we were being erased from the map."
I always thought that, if you fight as hard as you can and keep fighting, right and justice will prevail," Myles says. But it didn't seem to. When the court decision came own, I was a bit disillusioned."
After the forced merger, she and the other suburban, antimerger mayers met regularly. At the urging of the Baie d'Urfé Citizen's Association, Anne came out of retirement to run for the mayoralty of the Beaconsfield/Baie d'Urfé Borough in a by-election in October 2003, following the death of Roy Kemp. She ran on an explicitly demerger platfrom, the grassroots campaign for demerger was in full swing at the time, and she won by a landslide.
"The demerger movement brought so many people out to involved get involved. People who had never been involved in politics," she says. "Baie d'Urfé was special, but it happened in so many other places, too. People felt so strongly about their communities and said "I have to do something about this!"
Anne Myles has always felt strongly about Baie d'Urfé. In 1987, also at the urging of the Citizens' Association, she ran and won a council seat that was vacated during the first wave of the Anglophone exodus. Though new to Public service, she wasn't exactly a political neophyte. Then the editor of the News & Views, she had regularly attended council meetings for several years. "After five years of reporting on meetings that would often go late into the night, I felt like I knew what was going on," she says.
But knowing what was going on, and actually assuming the often-onerous responsibilities of public service are two very different things. What motivated her to accept the challenge? "Lack of backbone maybe?" she jokes, "or maybe it's genetic. My father was very interested in politics and my grandfather had been the mayor a of a village in Hungary. My father and I had always had very lively political discussions, so maybe an interest in politics was ingrained".
Six years later, when then mayor, David Kennedy. followed the flow of Quebeckers down the 401, Anne Myles recalls that she found herself in a council meeting discussing who should stand for mayor. The question went around the room until she realized that everyone was looking at her. "My immediate reaction was you've got to be kidding," she recalls. "I thought about it all that night, and realized that this could be an interesting challenge... that there was something to be done. But as soon as I accepted the offer of running for mayor, I found myself thinking 'what have I done?'"
What she had done was not as impressive as what she would do. Under her leadership, the Town spent the next two decades expanding the industrial park from five to fifty companies; professionalized and modernized the Public Works Department; renovated the Red Barn community center and left an indelible mark on the community - all while eliminating the $19,000 deficit she had inherited in 1983.
The Mayor says her strategy combined fiscal responsibility and careful use of the Town's resources in the interests of the citizens. "I always felt very strongly about giving maximum value for the tax dollar," she says. "I was fortunate. All these years, I've been surrounded by very special people in council and in the town as a whole, who really want to work for the community. And you'd be hard pressed to find a more loyal or dedicated staff than we have here. As I said, Baie d'Urfé is a special place."
There was controversy, of course. The Town's acquisition of the Fritz Farm property reshaped the local environment. The grounds, and the park along the lake are an essential part of Baie d'Urfé's visual and physical culture today, but at the time, it was a big deal. "There was a lot of controversy over that," the Mayor says. "It was a big challenge. But I think we did well to buy the property and maintain it as a green space." Few citizens would disagree today. One of the features that most defines Baie d'Urfé, after all, is the expansive sense of space - in green spaces from Bertold Park and Allan's Hill, to the Fritz House. For so small a town, visitors often comment, "Baie d'Urfé sure has a lot of space". Indeed, Myles says that she always considered the town's pleasing appearance and hospitable environment an indication of the inner qualities that make it a special community.
Although she was courted by federal and provincial political parties during her long political career, Mayor Myles says that she was never interested in leaving her office in the Town Hall on Morgan Road for plushier digs in Quebec City or Ottawa. "I was never interested," she says. "That's not why I got involved in politics. I wanted to look after my town, to do what I could in this community and stay put. So I stayed put."
From an interview by Matthew Friedman, journalist and former Baie d'Urfé resident. Matthew is now studying for his Phd at Rutger's University, New Jersey.
---